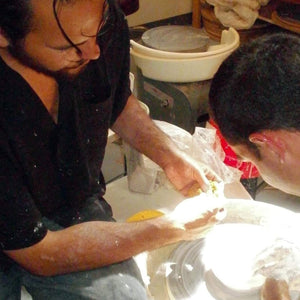 Just Need a Full Functioning Studio for A Day!?
A Unique & Fun Experience to use a pottery wheel or hand build your own clay creations for a Day! We provide everything needed: tools, materials, space, and firings! Pay for only the pieces you keep!
We are a pottery studio, school, gallery, tea room and bookstore in sunny Albuquerque, New Mexico, USA.

You are welcomed to learn whatever you would like with us.
You are welcomed to sell craft and art items in the gallery/tea room (if we like your craftsmanship and price).
You'll have access to all studio tools and materials free of charge.
You just pay for the pieces you wish to keep.
Please call us (505.243.0228) with further questions or to schedule a tour!
You may email us at homemade.nmic@gmail.com
We hope you have a good day! No matter where you are!